Elaine McMichael
The Artist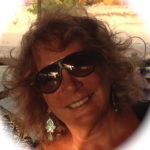 I am a contemporary acrylic painter captivated by and passionate about the creative experience. My work is my impression of my environment. My subjects range from my interpretation of landscape- beaches, lakes, mountains, and urban milieus to still life to the figure. Each of my images focuses on the conditions that surround us and affect the way we live – the external factors influencing our lives such as light, heat, wind, movement and precipitation. My focus recently has become my interpretation of natural forms as they evolve into abstract shapes. I use an impasto Impressionist technique building layers of color with both brush and palette knife to express immediacy and textural surfaces, leaving the work open to interpretation. I invite the viewer's participation and visceral interaction.
Elaine majored in Fine Arts at Emmanuel College, Boston and went on to receive Master of Education and Doctor of Education degrees from the University of Massachusetts. Her lifelong focus has been the visual arts, as an art teacher, an art director and as a college professor.
Elaine is currently a full time artist and also works as an Educational Consultant in the Boston Area. Elaine is represented by Gallery 302 Bridgton, ME, www.gallery302.org. Elaine's artwork can be viewed at the Cape Cod Art Association in Barnstable, MA, Newburyport Art Association, as well as  Melrose Arts  She was named one of 20 Best Massachusetts Contemporary Artists in 2013 at the Brush Gallery, Lowell, MA. A member of several art associations, Elaine's paintings have won awards and have been exhibited throughout New England and the Eastern United States. Her paintings hang in numerous private collections. Elaine can be contacted at emcmich@comcast.net.
"I am always doing that which I cannot do, in order that I may learn how to do it'" Pablo Picasso. His statement affirms and sustains my infinite experimentation with color, composition and ideas.